How long will my order take to be dispatched?
I usually make our knotted items to order and post within 3 working days, (unless it is a custom order).
For bank holidays and weekends, this is extended to the next day the post office is open!
I usually acknowledge your order promptly, with the dispatch date included.
Can I Customise An Order?
If you would like one of knotted items to be longer, larger or shorter, please contact me first and I will try to accomodate your request.
I make all my products, so if I have the rope in stock, or it can be sourced, and if it is possible to create, I will be glad to have a discussion about any ideas for home decor that you have. Some of my bestsellers have come from customer's enquries!
Can I Order Multiples And Would There Be Any Discount?
We are happy to make our products in multiple quantities. If you are interested in ordering many items all at once, please email [email protected] with your details and we will get back to you with a special discount as soon as possible.
Jute is a fantastic fibre, sustainable, 100% bio-degradable and recycleable, known as the Golden Fibre.
No artificial pesticides or fertilisers are necessary to grow it, which means it is possible to be grown by small family concerns in Bangladesh and India. It can be planted quickly in flooded areas, such as the Bengal and Ganges deltas, and harvested in 4 to 6 months.
The coarse outer fibres can be used for firewood, the leaves for food and the stems for fibres that are used to make rope, hessian or burlap cloth and many yet to be discovered uses.
Being a natural plant fibre, Jute is affected by its environment. It will shrink a little when damp or in wet conditions and it will loosen when dry.
Jute is best kept dust free, and clean by vacuuming. If necessary, it is possible to wipe down with a damp cloth or sponge, and leave to dry naturally.
Mats should be re-shaped gently and left to dry naturally whilst flat.
Baskets can be re-shaped by pressing a small bowl or ball inside and patting the edges around, again dry naturally, please do not use a washing machine or tumble dryer!
I use three and four stranded jute rope for my baskets, rope bumpers, and mats
Jute has a pleasant aroma, that reminds me of warm brown kraft paper.
I started to use jute more when some of my customers found that manila smelt too strong in their homes. Jute is a lovely natural colour, it can vary a little from batch to batch, sometimes it has a reddish brown cast and other times it is a very pale ecru.
Being a natural plant fibre it can have slight differences in the twist of the lay, but I think this adds character and interesting texture.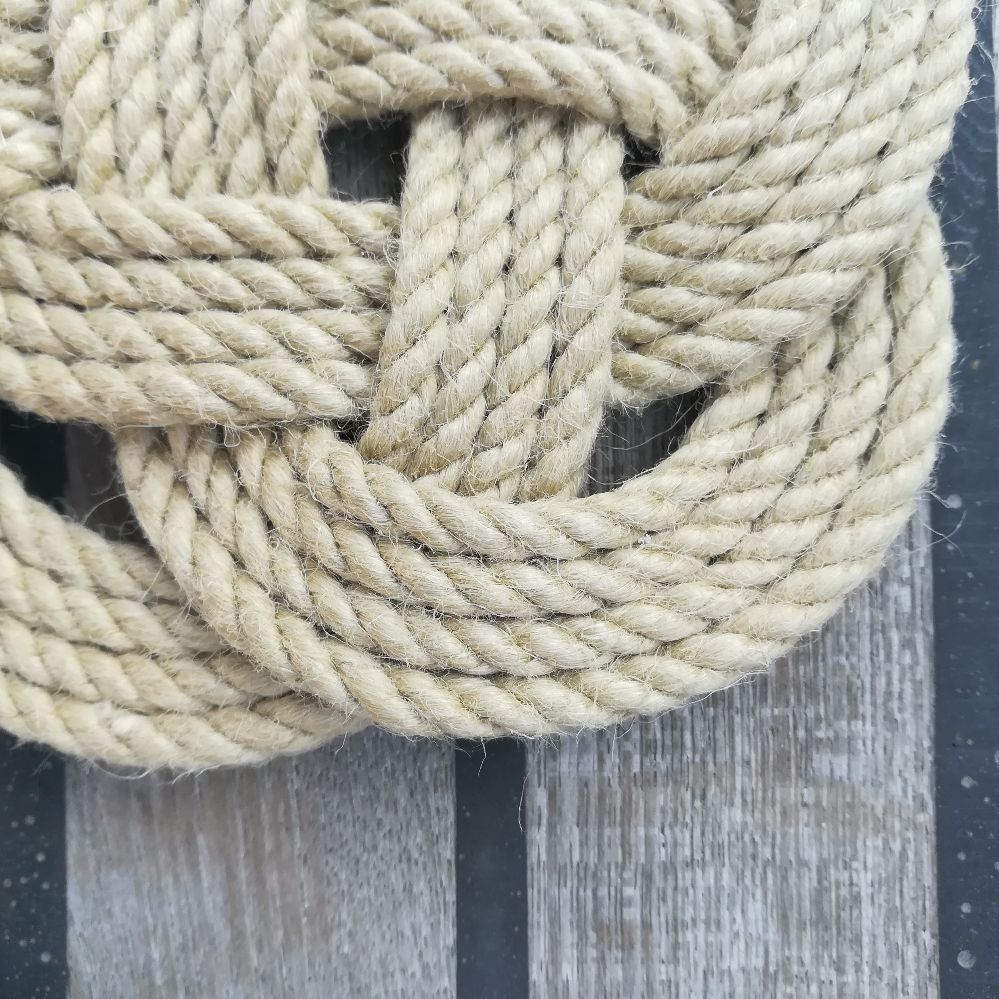 Poly Hemp, is also known as Hempex, Synthetic Hemp, or Hardy Hemp
Poly Hemp is a lot easier to care for than natural hemp, it is kinder to hands than natural hemp. It is made from spun polypropylene.
It is used on classic boats as it looks traditional without the attention that the old natural ropes needed.
Vacuuming regularly is best, but if it is necessary, wash very gently by hand with a mild detergent, do not scrub, then rinse well.
If you have a poly hemp mat leave it to dry naturally on a flat surface.
Baskets can be carefully re-shaped whilst damp by placing a small bowl or ball inside and patting the sides around. then leave to dry naturally, do not tumble dry.
Poly hemp is UV resistant and rot resistant. It is not affected by environmental conditions and it is very hard wearing.
I found out that this rope floats after our Ocean Plait Mat disappeared one night during a severe storm. Over a week later a friend returned it after they found it in a corner of the harbour! Luckily she recognised it as mine. After a rinse it looked no worse for the journey.
This particular mat is now over 10 years old and it looks fine, all that time it has been on deck in sun and rain. the only change has been that it is slightly greyer than new rope.